Kareem Sobky, MD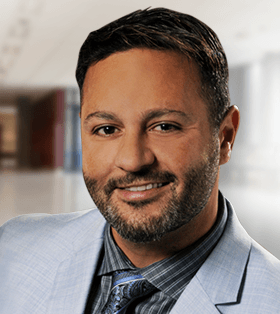 Kareem Sobky, MD
Dr. Kareem Sobky grew up in Missouri and earned his degree in biological sciences from Saint Louis University. He continued his studies and earned his Medical Degree from Saint Louis University and graduated at the top of his class with Magna Cum Laude honors and was elected to the Alpha Omega Alpha Society. Dr. Sobky was drawn to Colorado by his passion for the mountains and completed his orthopedic surgical residency at the University of Colorado. He received the honor of Outstanding Resident Teacher and has co-authored numerous scientific publications. A little-known fact about Dr. Sobky is that he is a 5th generation doctor and his great grandfather was private physician to King Farouk of Egypt.
In addition to his practice of medicine, he also participates as a member of the International Congress of Joint Reconstruction and the American Academy of Orthopedic Surgeons. He has instructed surgeons on anterior hip replacement, shoulder replacement and reverse shoulder replacement surgeries. Dr. Sobky practiced orthopedics in St. Louis, MO for almost six years and then at Kaiser Permanente in Denver for the last six years. While at Kaiser he received the highest award given to a physician called the Permanente Award or the "Doctor's Doctor award.
Dr. Sobky devotes his practice and has honed his skills in two different orthopedic sub-specialties, which allows him to treat a wide variety with precision. The first is joint replacement of the hip, shoulder and knee (including partial replacements and reverse shoulder replacement). The second is sports reconstructive surgery and arthroscopic surgery of the shoulder and knee. His interests are in anterior hip replacement, accelerated recovery hip/knee/shoulder surgeries, shoulder replacement and reverse replacement surgeries, rotator cuff injuries and shoulder instability, knee ligament and cartilage reconstructive surgeries, as well as fracture care. Dr. Kareem Sobky brings cutting edge techniques utilizing some of the latest technology, reliable outcomes, and years of experience in joint replacement and sports reconstruction to the practice.
Care Philosophy
I am a passionate person by nature. You will see this in how I treat you. We will address your orthopedic problems together with the goal of getting you back to the activities you love. Many of us love the same activities. I am passionate about skiing, biking, golf, scuba diving, cooking and old muscle cars as well. It is truly my privilege to help people live active lives, do so with less pain and restriction, and become friends along the way. Together, my team will do our very best to help you return to the activities you are passionate about.